Technical
With our proprietary perforation technology, we consider that perforated materials have infinite possibilities in various fields, such as food, medical supplies, miscellaneous goods, architecture, transportation, agriculture and industry, and provide planning and manufacturing of products that meet customers' requests together with customers.
Perforation technology (contract processing)
This is a technology for perforating a single or composite plastic film.
We use two kinds of perforation methods: a hot needle perforation method using general heated needles (B Kikou ) and our proprietary fusing perforation method using fusing energy (Kikou).

Fusing perforation … Three models: Kikou I, II and S, Pore size: 100 μ to 500 μ
Hot needle perforation … Five models for each pattern of B Kikou, Pore size: 250 μ to 1.5 mm
K Marimo technology (contract processing)

*Our proprietary technology
This is a technology for the composite processing of different materials.
Materials perforated all over are laminated. Composite materials (with nonwoven fabric, paper, etc.) having [air permeability, water permeability or thermal sealing performance] can be obtained.
Materials are bonded with the resin melted during perforation processing. This is a technology for laminating materials without any adhesive or the like.
Lamination processing technology
Thermal lamination (lamination of materials perforated all over)
Product name <K Marimo processing>
Film perforation and lamination (two-layered, three-layered, thermal lamination)
Selection of materials
Nonwoven fabric × Unstretched film (sealant layer acceptable)/All over perforation and lamination
Paper × Unstretched film (sealant layer acceptable)/All over perforation and lamination
Feature
Materials for outer or inner wrapping (food, medical supplies, miscellaneous goods) having water permeability, air permeability and breathability
Microporous film having pore sizes of 150 μ to 500 μ (all over perforated and laminated) for fusing sheet perforated all over
* Sanitary materials that have no odor and cause no deterioration or exfoliation by chemicals because no binding agent is used
Image of K Marimo process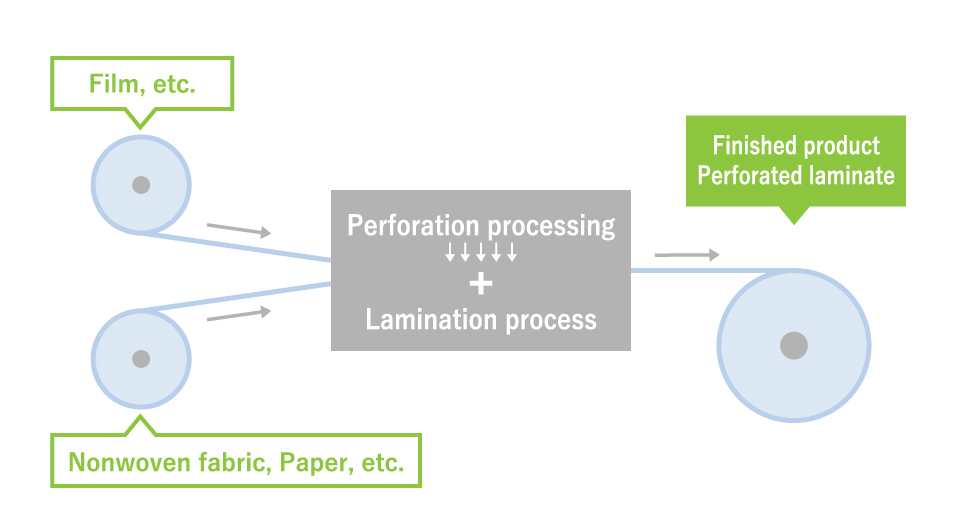 The unit of figures is millimeters. (Marked in 0.1 millimeter increments.)

Product that was slit after perforation
Application examples of perforation processing/perforated films
Food field

Freshness retention bags for vegetables/fruits
Wrapping materials for bread
Drip sheet for fresh fish/meat
Top seals/films for natto
Packaging materials for Japanese/western confectionery
Packaging materials for frozen foods
Medical field

Sterile bags
Hemostatic pads
Materials for adhesive bandages
Patch sheets
Others

Wrapping materials for desiccant
Wrapping materials for flowers
Materials for gardening
Soundproof materials
Packaging materials for toys
These products provide air permeability, water permeability, gas venting, releasability and moisture condensation proofness, etc. If you have any request for other applications of our processing technology, please feel free to contact us. We will conduct planning and manufacturing together with you.
Introduction of products
Kikou ® series
This is a generic name of perforated films manufactured by our unique fusing perforation method and these products have served as the basis for the foundation of our company. Differently from the hot needle method, the fusing perforation method does not generate residue. The products present a beautiful appearance by the uniform pore sizes and slightly molten rings in addition to the unparalleled micro pitches between pores. The products are used as wrapping materials by themselves as a matter of course, and they are also extensively used as composite materials. This <Kikou ®> series consists of three items, <Kikou I>, <Kikou II> and <Kikou S>.
B Kikou ® series
These products are films perforated by the hot needle method. There are several kinds of items patterned by the combination of the number of pores, pore size, pore pitch, etc. We generically call this series <B Kikou ®>. It is adopted as wrapping materials, etc. having breathing function and water permeability function, and is also used as one base material of a composite film. The films are reborn as new products having special functions.
<B Kikou ®> products can have endless partial perforations in the flow direction.
B Kikou4

B Kikou5

B Kikou9

B Kikou10
Specifications of Kikou ®
Category
Name
Pattern
Pore size
Number of pores/㎡
Aperture ratio
Maximum processing effective width
Fusing perforation
KikouⅠ
200μ
~300μ
890,000
2,8%
~6,3%
(x=4,4%)
1,050㎜
KikouⅡ
350μ
~450μ
620,000
5,9%
~9,8%
(x=7,8%)
1,100㎜
Kikou-S
100μ
~200μ
1,786,000
1,4%
~5,7%
(x=3,2%)
1,200㎜
Hot needle perforation
B Kikou-1
1,5㎜
20,000
3,5%
1,050㎜
B Kikou-4
0,8㎜
3,200
0,16%
B Kikou-5
0,2㎜
~0,25㎜
20,000
0,06%
~0,1%
(x=0,08%)
B Kikou-9
0,8㎜
2,500
0,13%
B Kikou-10
0,7㎜
40,800
1,6%