Effects
Reduction of the number of pesticide applications is expected!
The effects in greenhouse cultivation can be obtained in outdoor cultivation!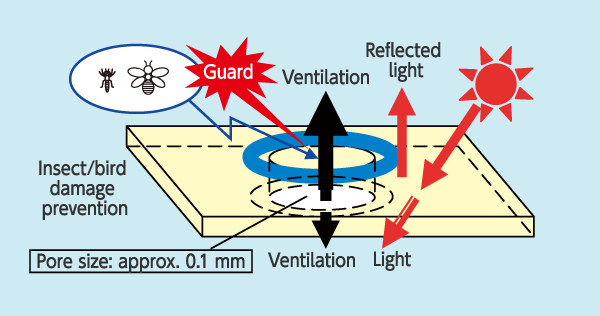 Air permeability effect

With good permeability, the inside of the bag does not generate condensation.

Insect-proof effect

The pores formed all over the bag are microporous, and insects cannot enter the bag through them.
The pore sizes are smaller than the size of a thrip (insect).

Preventing parasites from scattering

Parasites are held in the bag and prevented from scattering.

Bird damage prevention

The bag is harder to tear compared to a paper bag.

Diffuse reflection effect

The reflected light from the bag is expected to have a bird/insect repellent effect.

Management effect

Fruit growth conditions can be visually checked at any time (transparent bag)

Material effect

The temperature in the bag changes easily (resulting in quality improvement).

Light weight

Possible to be carried in large quantities (improved work efficiency)

Double effect

Use in greenhouses (growth promotion)

Greenhouse effect

Fruits grown outdoors are expected to ripen early. (There are regional differences.)

General effects

Labor cost and pesticides reduced
Greenhouse effect in outdoor cultivation by use of the BIKOO bag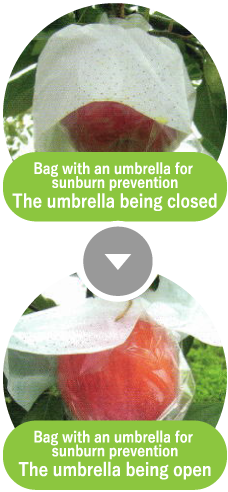 * The (BIKOO) product (bag with an umbrella) does not completely compensate for damages caused by sunburn, high temperature, etc. In using this product, please pay attention to climate conditions and act accordingly.
* The bag has a structure that makes it difficult for water to enter, but a slight amount of water may enter the bag. Even if water enters, it dries in a short time. If there is water pooling at the bottom of the bag due to dirt, make a cut of about 1 mm at the water pooling point.
* Due to the weight of the fruit, the bag may be broken and as a result, the fruit may drop and be damaged.
* The bag may not prevent damages by some kinds of insects. Care should be taken during use.